January 2010 Newsletter
The Joys of Christmas in Sedona
Two nights before Christmas, Sedona Real Estate and the Verde Valley received several inches of crunchy old-fashioned snow. The following morning revealed a clear blue sky and an abundance of sunshine. Who could have contemplated a more beautiful scene?
Of course, we all knew we would only have that day to enjoy it, but who cared, the joyful memory would be more than enough to sustain us.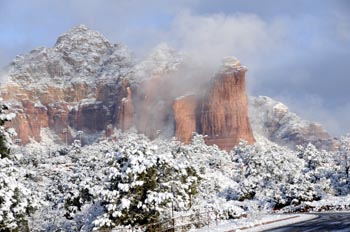 Not only were our beloved red rocks covered with the white stuff, but so was everything on the ground, creating a virtual winter wonderland. The most spectacular scenery was in Oak Creek Canyon, from Midgley Bridge all the way to the switchbacks. The snow there lasted the longest because of the canyon's protective early morning and late afternoon shadows. It was a breathtaking sight.
With the snow an even more important thing began to happen around town. People began to smile more, talk more and laugh more. Forgotten, at least temporarily, was the nation's economic chaos, frustration and anger, and concerns about what next year would likely bring.
We suddenly remembered who we really were . . . friends, neighbors, Sedonians. We allowed ourselves to be dazzled by the Tlaquepaque Christmas lights. We responded to the "Merry Christmas" greetings of the bell ringers in front of Basha's and Safeway. Emile opened the Coffee Pot restaurant to those who couldn't afford a meal. Efren and Debbie opened Café Jose for both tourists and locals wanting to find a place to eat on Christmas Day.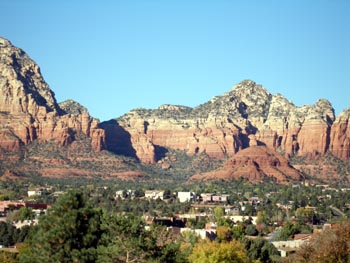 Harkins Theatres offered us a selection of films to satisfy just about every taste: Avatar to blow our minds, a zany version of Sherlock Holmes, a heart-warming Meryl Streep romance, and for the kids, Alvin and the Chipmunks. No wonder the parking lot was packed from morning til night.
And people invited people into their homes . . families, close friends, neighbors . . to celebrate the joys of being together, and to give thanks for the time we have been given to live our lives in the peace and tranquility of Sedona.
Yes, some people may simply dream of living in the beauty of Sedona, and yet for us, it is our day to day reality. I would love to help you make it your reality!
You can E-mail me at Lee@LeeCongdon.com or call me at 928-300-5050.