July 2010 Newsletter
ARE YOU PREPARED TO LOOK FOR A HOUSE?
Buyers are usually ready to buy a house, but do they have a step by step plan that will aid their search for Sedona Real Estate?  Just taking into account a few simple steps will certainly make the process a whole lot easier.
The first step is to find a local lender you can talk to in person. Local lenders understand market conditions and know of loan programs that might be beneficial to you. Check on any local programs that might help with closing costs or in other ways. Even though the media has pronounced the 100-percent financing option dead, that is not always the case. There may be alternative ways to secure financing. Another smart idea is to get yourself preapproved so you know how much house you can afford.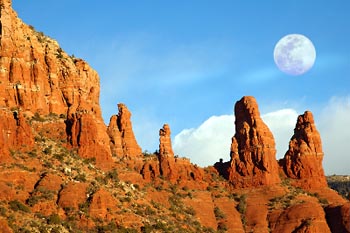 Be specific about what area you want to live in. Perhaps West Sedona, the Chapel area, or the Village of Oak Creek. Maybe further out in Page Springs near Senator McCain's ranch. Familiarize yourself with whatever neighborhoods you are interested in. What are the taxes? What is the school district like? This not only helps you to narrow down your search, but it also gives you a chance to figure out potential mortgage payments. You can then begin looking at homes in your desired neighborhood.
Frankly, that is all you need to do on your own. Now it is time to select a real estate agent familiar with the area you wish to live in. It should be someone you feel comfortable working with and can trust. What are the qualities of a good agent? Most importantly, an agent that is full-time and well-educated in the intricacies of real estate. Also, someone who has thrived in this challenging market and proved his/her worth. A top-notch real estate agent should have the resources and skills to show you homes that fit your profile, and not waste your valuable time.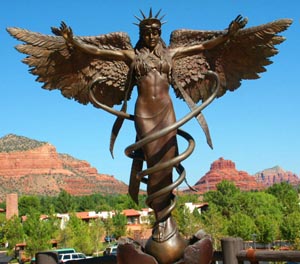 Here is something important you should be aware of. Just because a house may need some paint or cosmetic fixes doesn't mean it's not a good buy. A good real estate agent will have an address book full of trusted services they work with to help you fix up your new home. There is a HUD program known as 203K that enables you to fold repair money into a primary mortgage. Your RE/MAX agent can furnish you with the details of this program.
If you see a property that truly appeals to you don't hesitate to act. Sometimes the first home you see is the right one for you. Don't discount it. Remember, good deals go fast. Take advantage of the electronic tools your agent has to offer. In many instances an agent has access to better information than what you can find on the Internet.
Buying a home is a major commitment, especially if you have your heart set on living in Sedona. The surrounding beauty is unsurpassed and the people, if you take the time to get to know them, are genuine and enriching. If you have any questions, don't hesitate to contact me. I would be happy to help you find your special place in our lovely red rock paradise.
You can E-mail me at Lee@LeeCongdon.com or call me at 928-300-5050.