March 2009 Newsletter
Are You Starting to Think About Retirement?
The idea of retiring will usually begin with a quiet buzzing in your brain as you enter the 5th decade of your life. It will grow more persistent as you advance toward 60. From 60 on it will begin to occupy more of your thoughts until you reach the point in your life when you will be unable to resist its allure.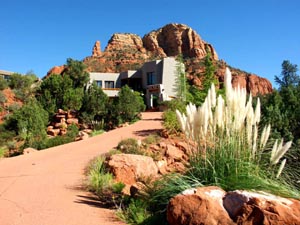 And why should you? For twenty or thirty years you've been paying your taxes and building your nest egg. Now you want the entitlement you rightfully earned: RETIREMENT IN SEDONA. If that is indeed your dream, now may be the right time to buy – or at least to start looking around in earnest for a property in Sedona Real Estate.
Sure, real estate values may still go lower given the pessimistic forecasts that housing is going to stay soft through 2009. But picking the exact market bottom is a dicey game, and besides, the question that matters most to retiring Buyers is not what price your dream house will sell for next year, but whether it will be worth more, say in five or ten years.
If you look at it that way, the values here in Sedona are at this moment extremely compelling. The following steps can help you decide if you are ready to begin moving ahead, and if you are, how best to take advantage of today's oversized inventory and structure the best deal possible.
1. Know What You Can Afford
Before you spend time and energy scouting properties, make sure you can clear today's financial hurdles. Financing is tight, so you will need stellar credit (a 740 FICO or higher) to qualify for the lowest mortgage rate. If your nest egg has been seriously dented by falling stocks, you might be better off getting a low interest loan.
2. Pick Your Sweet Spot
The current downturn has affected Sedona much the same way it has affected the rest of the country, only not quite as severely. We have numerous properties for sale at prices ranging from $250,000 to more than $1,000,000. Many are below their original asking prices, with some having been reduced drastically. In addition, there is an increasing inventory of foreclosures as well as homes that are now available via a short sale.
3. Work With An Ally
What should be foremost in your mind is the need to secure the services of a savvy and experienced real estate agent who can (1) guide you through what is today a labyrinth of choices, and (2) negotiate the best possible price in the midst of these volatile and fast changing times. Given the market's current turbulence, you will gain a tremendous advantage having a knowledgeable partner and advocate by your side.
Keep in mind that in addition to offering great opportunities in real estate, Sedona's clean lifestyle has even more to offer. A diversity of opportunities to do what you want with your retirement life. How healthy do you want to be? Start working out so you will have energy and a strong immune system. Get in touch with whatever spiritual life you want to have. Get to know yourself, who you are, what you want to do with those precious years left to you. It's a long involved process, but don't worry, you will have plenty of time to enjoy the transition once you get settled here.