Sedona Foreclosures & Short Sales in Sedona and the Verde Valley
Why the Time for Buying/Investing in Sedona, Arizona Foreclosures is NOW!
Foreclosed properties, unlike ordinary property, do not become cheaper if the real estate market continues to weaken. Once the Lender, usually a bank, steps into the picture the dollar numbers usually don't change. At that point the bank's primary interest is to find a qualified Buyer/Investor who will take the property off its hands and, at the same time, recover as much of its outstanding debt as possible.
In the State of Arizona, the most common type of foreclosure is the non-judicial foreclosure. This means the process is administered without court supervision, which greatly streamlines the timeframe while still protecting the rights of the Lender and the Borrower.
This type of foreclosure is enabled through a Deed of Trust which contains a Power of Sale clause. This clause provides a strict procedure and a timeline of notifications that the Lender must follow in taking back the property and putting it up for sale.

There are three basic steps in this type of foreclosure:



Filing a Notice of Sale - After a delinquency period of one to three months, the Lender requests the Trustee in charge of the proceedings to file a Notice of Sale.


Setting of Sales Date - At least 3 months after Step 1, the Trustee sets a date and time for the sale.


Trustee's Sale - An auction is held on the steps of the county courthouse. If the minimum bid is not met, the property reverts back to the Lender and can then be purchased from the Lender.
As you can see, the first two steps can be considered pre-foreclosure. The pre-foreclosure time can be an opportune time for a Buyer/Investor to make a wise purchase. More often than not, the greater bargain is to act before the bank actually takes ownership of the property and puts it on the market at market value.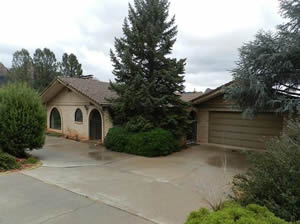 Right now foreclosures are on the rise nationally, and Sedona and the Verde Valley are no exceptions. This is the time to consult with an experienced real estate agent if your interest is in Pre-Foreclosure properties.
I specialize in a service that notifies me when Borrower/Owners receive a Notice of Sale in the Verde Valley, and therefore can bring interested Buyers/Investors to a property that has not yet been listed and the Owner is open to a reasonable offer.
If you care to take advantage of such a special situation, call me, Lee Congdon, at 928-525-4720, or E-mail me at Lee@LeeCongdon.com. I will be happy to put my experience and expertise to work for you in this or any other kind of real estate need.