Cottonwood Arizona: What is it like?
What is Cottonwood Like?
Cottonwood, a city of approximately 11,000 inhabitants, is located 18 miles from Sedona at an elevation ranging from 3,300 feet to 3,900 feet above sea level. Looming behind it are the Black Hills and 7,000-foot Mingus Mountain. The community is bisected from the northwest to the southeast by the Verde River.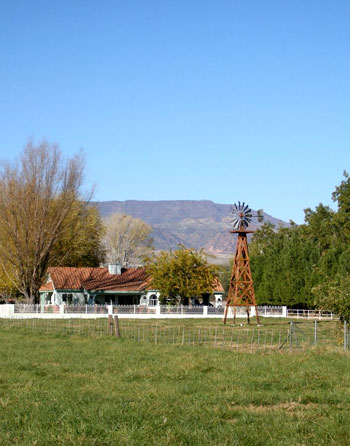 Although the average price of a home in Cottonwood is about half that of Sedona, the rate of appreciation in both communities has been about the same over the last five years. The city has much to offer anyone seeking a mild climate with clean air.
The recent additions of a Super Walmart and a Home Depot show that the community is growing just fast enough to provide the services and amenities needed to maintain its present way of life, without losing its small town atmosphere.
Like most of the communities in the Verde Valley, Cottonwood has a rich and lengthy history, having once been home to the Sinagua Native Americans, and later the Yavapai and Apache Tribes. At the turn of the 20th century major smelting operations to process the copper ore being mined in Jerome were established and Old Town Cottonwood became a thriving community containing thousands of residents. Today it is being revived with restaurants and art stores.
Taxes:
Cottonwood's Property Tax rate in 2005 was $8.72 per $100 of assessed evaluation, while the Sales Tax within the city limits remained at 8.55%.
Medical Facilities:
The Verde Valley Medical Center (VVMC) is a 110-bed facility, the largest in the Verde Valley. It has a staff of 800 professionals, including 80 physicians engaged in 21 different medical specialties. It is Medicare-licensed and offers a wide variety of comprehensive programs in medical, diagnostic, inpatient and outpatient services, including cardiology, laboratory, medical imaging, obstetrics, orthopedics, rehabilitation, respiratory, surgery and education.
VVMC's Medical Imaging Department is unequivocally state-of-the art. It includes a 16-slice CT scanner, a 1.5 Tesla MRI, the latest mammography equipment for breast biopsies, and advanced nuclear medicine capacity.
Angel 3, the hospital's on-site helicopter, is available for emergency transport to and from Sedona, Flagstaff and the Phoenix area.
Educational Facilities:
Mingus Union High School is home to approximately 1300 students. The Cottonwood Middle School has an enrollment of about 750 students.
On the elementary level, the Dr. Daniel Bright School has some 850 students and the Cottonwood Elementary School has an additional 650 students. A Montessori School as well as a Charter School and numerous private elementary and college prep schools also serve the area.
Community Facilities:
Cottonwood has a Civic Center, a library, a recreation center and four parks, including one on the riverfront. There are two golf courses and numerous tennis courts. Senior citizen services such as skilled health care, supervisory care and retirement centers are also available.
Annual community activities include Verde River Days, the Verde Valley Birding and Nature Festival, the Cottonwood Gem & Mineral Show, a Chocolate Walk, a Fourth of July Fireworks Celebration, and the Cottonwood Christmas Parade. For more information on the Community of Cottonwood, visit the Chamber of Commerce at www.cottonwood.verdevalley.com.
Cottonwood Arizona Real Estate Listings
Click on the white or blue panels below to view slideshows of current properties for sale in the Cottonwood, Arizona area. Each photo can also be clicked on to view more information about each listing.
The photos in the slideshow will loop, so if you missed a listing, be patient. It will come around again.