Horse Property for Sale in Sedona & the Verde Valley
The Verde Valley's two principal communities, Sedona and Cottonwood, are held together by Route 89A. Located approximately sixteen miles apart, they are an easy drive on a relatively level four-lane highway.
Sedona, the smaller more boutique-like of the two, offers a more sophisticated mix of hotels, restaurants, night clubs, and shops, as well as a six-screen cinema complex. Cottonwood, on the other hand, has the Verde Valley Medical Center, a Super Wal-Mart, a Home Depot, and an array of car dealerships. If you put the two together, they would contain most of the elements we associate with a medium-sized urban city.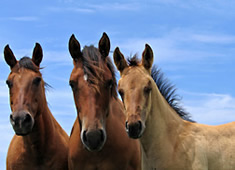 But that is what is deceptive about that stretch of 89A. What you don't realize are the many turn-offs, including those inside Sedona's city limits and Cottonwood city limits, that still retain hidden vestiges of the old rural West. And there are none more enduring than Arizona's revered four-legged icon
. . . the horse!
As you can tell from the picture, I love horses! I have ever since I was a little girl growing up in Washington state. I now have time only for an occasional ride. However, many of my clients and friends own horse properties and visiting them is always a joy and pleasure.
If you are a horse lover and interested in looking for horse property in the Sedona area that is for sale, I will be happy to show you around and let you see what our market has to offer.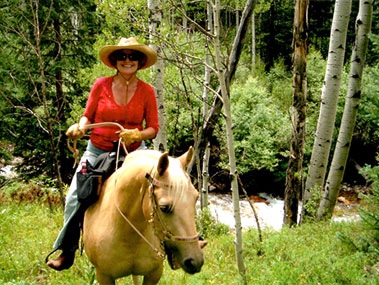 If you are interested in finding a stable where you can keep a horse separate from your living space, I can help you with that too. If you are intrigued by the idea of riding a horse through some of the most spectacular scenery in America, there are numerous trails for you to choose from.
And if you have never been on a horse, don't worry, here are some fun tips to wet your appetite. The primary key to working with a horse is communication. Not with "Gideeup" or "Whoa", but primarily using your balance and body position, along with the bit and reins. Anything you can do to increase your feel for the horse's movements and your own balance will make you a better rider. And remember, a horse will generally end up behaving toward you the way you behave toward it. Keep yourself calm, attentive and self-disciplined and you will find yourself riding a gentle, attentive and well-behaved horse!
As Roy Rogers used to say, "Happy trails and keep smiling."
Horse Properties in Sedona For Sale!
Testimonials
Thank you, thank you, thank you, Lee. My house was THE perfect sale!

Moving to Sedona came a bit of a surprise to my partner and I. The move came out of the blue as it was my partners firm that moved us across state lines to this majestic place!

The move was incredibly fast! Within two weeks of being notified we traveled to Sedona, walked into a realtors office and were welcomed by Lee Congdon. Two weeks later we made an offer on an incredible home with soul stirring views in an unbelievable location. Our offer was accepted and three weeks later we got the keys to our new home.

To this day, my gratitude cup runeth over... Lee turned out to be so much more than just a superior realtor. These days I consider her one of my friends, with whom I grow closer with each time I see her.

All along the way, Lee has been there to support our every need. She's a pillar in Sedona real estate and her relationships, her contacts have been invaluable to us. From contractors to carpenters, landscape supplies and electricians; Lee has assisted us through it all.

We are so grateful to Lee, she gave us a grand slam to start and she's been hitting home runs ever since. If you're looking for a Sedona real estate professional that knows all of the locals and is an expert in location, location, she's your gal.

Gary Whorton