Camp Verde / Lake Montezuma / Rimrock Arizona: What are they like?
Camp Verde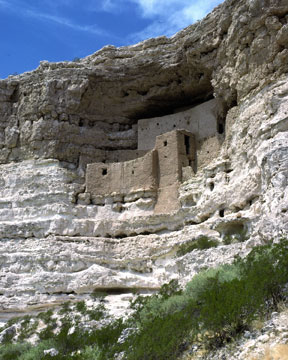 Camp Verde is 3,147 feet above sea level and is located in the geographical center of Arizona. The annual average temperature ranges from a low of 45 degrees F to an annual average high of 79 degrees F. Settled in 1865, it is the oldest settlement in the Verde Valley and the home of a historic military post, Fort Verde. Built to defend the settlers against Indian raids, it is now a museum.
Although the population is about 7,000, Camp Verde remains a relaxed and friendly farming and ranching community. Most of its accelerated growth has been along the Highway 260 corridor to Cottonwood. Reasonably priced property is still available within its 46 square mile limits. Housing in Camp Verde includes manufactured homes and single family site-built residences. Many Northern Arizona horse properties and substantial acreage contribute to the rural setting. A moderately-priced site-built home ranges from around $275,000 to $350,000. Two recent residential developments, The Bluffs and The Views, offer planned and custom-built homes. Based upon a pending U.S. Forest Service land trade, additional private sector developments are in various stages of planning.
Medical Facilities:
A Verde Valley Medical Center clinic is now located in Camp Verde. The main hospital is located 16 miles away in Cottonwood. It is a technologically advanced 110-bed facility, the largest in the Verde Valley. It has a staff of 800 professionals, including 80 physicians engaged in 21 different medical specialties.
Educational Facilities:
Camp Verde's schools include 2 elementary schools, 2 middle schools, and one unified public high school. Several private and charter schools are also located in town, as well as the campus of Yavapai College, a 2-year accredited community college.
Community Facilities:
Camp Verde offers a number of community facilities including a library, a community swimming pool, soccer and baseball fields, parks, a skateboard park and a variety of picnic sites. The city has a wide variety of clubs, civic organizations, and a very active senior center. Within the city limits is the Yavapai-Apache Nation's Cliff Castle Casino and Visitor Center. The casino contains a 20-lane bowling alley and a Kids Quest childcare facility and arcade. Nearby area attractions include the Out of Africa Wildlife Park, Montezuma Castle National Monument, Montezuma's Well and the Fort Verde State Historic Park. For more information on Camp Verde, visit the Chamber of Commerce at www.campverde.org.
Click Here to Find Property in Camp Verde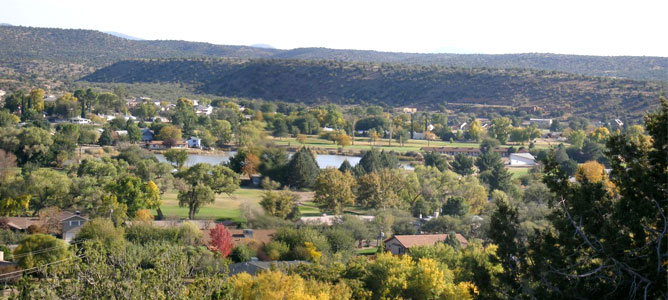 What is Lake Montezuma Like?
Just north of Camp Verde, Lake Montezuma is an unincorporated planned community that takes its name from the nearby famous Montezuma's Castle National Monument.
The town sits on Wet Beaver Creek and has traditionally been a haven for retirees. Recently, though, families have started moving into the area because of its affordable costs of housing and land. Land investments, both in Lake Montezuma and neighboring Rimrock, have, over the last five years, yielded returns of nearly 400%.
The two towns have a combined population of about 3,750 residents. The climate is mild with an average winter low of 28 degrees F and a summer high of 90 degrees F. This wonderful year-round weather makes golfing at the 18-hole Beaver Creek Golf Club an ideal form of outdoor recreation. In addition to the course, there are a pool, tennis courts and a restaurant.
At Montezuma's Well, a natural limestone sinkhole 470 feet across, hiking trails wind down through lush vegetation to this unique lake formed by the collapse of a large underground cavern. It is filled continuously by a nearby spring. For more information, visit www.azcommerce.com.
Click Here to Find Property in Lake Montezuma
What is Rimrock Like?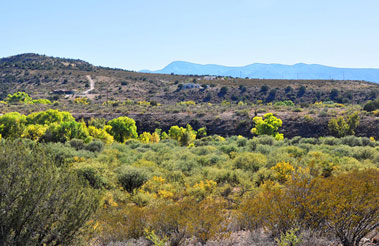 Some old-timers claim that Rimrock got its name from the rocks along Wet Beaver Creek. Others maintain it was named after a dude ranch. Either way, Rimrock is an area that is beginning to attract land developers who view the local property prices as reasonable.
Locals laud the town's peace and quiet along with its scenic surroundings. Rimrock has one small market, Bearfoots, where the natives gather to catch up on the latest goings on. Close by is Nick's Lunchbox, a local hangout offering chili cheese fries, Chicago dogs, and reputedly killer milk shakes.
One thing you can be sure of, Rimrock is not a place for nightlife, unless you enjoy watching a parade of javelinas crossing the road.
Click Here to Find Property in Rimrock
Camp Verde, Lake Montezuma, Rimrock Real Estate
Click on the white or blue panels below to view slideshows of current properties for sale in Camp Verde, Lake Montezuma, and Rimrock, Arizona. Each photo can also be clicked on to view more information about each listing.
The photos in the slideshow will loop, so if you missed a listing, be patient. It will come around again.