Sedona / VOC: What is it like?
The City of Sedona is situated at the mouth of spectacular Oak Creek Canyon and is characterized by massive red rock formations and incredible views. It is entirely surrounded by pristine National Forest wilderness.
Located at an elevation of 4,500 feet in Arizona's high desert country, Sedona is blessed with four mild seasons, abundant sunshine and clean air. The annual average high and low temperatures are 74.7 and 45.6 degrees.
Of the city's approximately 19-square mile area, only 51% is privately owned. The remaining 49% is part of the Coconino National Forest. Along with the nearby Village of Oak Creek (often referred to simply as VOC by locals), some 18,000 people reside in the area.
It is predicted that at the current rate of development, Sedona will be 93% built out by 2015.
Taxes:
Although the Village of Oak Creek is located solely in Yavapai county, the City of Sedona is divided between Yavapai and Coconino Counties. Residential property taxes are similar in both counties, and are less than 1% of a property's selling price.
Medical Facilities:
Although unusual for a community the size of Sedona, the city has its own medical facility, a branch of the Verde Valley Medical Center (VVMC), located in Cottonwood. In addition, VVMC also operates a small clinic in nearby Oak Creek Village. The Sedona Campus boasts a complete Cancer Treatment Center and a newly installed Siemens 16-slice CT Scanner. It also has a 24/7 Emergi-Center with Board-Certified physicians trained in the latest Cardiac, Pediatric and Trauma Life Support procedures. Although it only offers outpatient services, visitors requiring inpatient care can be quickly transported by ground or air to the main hospital, a 110-bed facility, in Cottonwood. A staff of 800 professionals, including 80 physicians provide care in 21 different medical specialties.
Residents of Sedona also have access to numerous skilled practitioners who operate in private offices throughout the area, as well as to the Sedona Urgent Care Clinic.
Educational Facilities:
The Sedona-Oak Creek Joint Unified School District includes Sedona Red Rock High School, a modern campus consisting of four buildings, the West Sedona Elementary School and the Big Park Elementary School in the Village of Oak Creek. A Montessori and a Waldorf school and numerous private elementary and college prep schools also serve the area's educational needs.
Yavapai Community College, headquartered in Prescott, has a local Sedona campus offering a varied curriculum of adult courses. Sedona is also home to the Zaki Gordon Institute for Independent Film Making. Northern Arizona University is located in Flagstaff, approximately 35 miles north of Sedona.
Community Facilities: A full complement of public services are offered by institutions such as the Sedona Public Library, the Sedona Center for Arts and Technology, the Sedona Creative Life Center (to the right), the Sedona Historical Society and the Sedona Humane Society, plus a long list of charitable organizations. In fact, volunteerism is essentially a profession in Sedona because so many corporate executives, educators, and private entrepreneurs have retired here.
Places of Worship: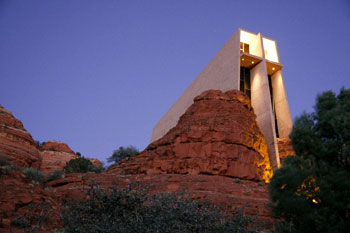 There are more than 30 religious sanctuaries in the Sedona-VOC area, many of them in beautiful edifices specifically designed to take advantage of the inspirational views that surround them.
The Chapel of the Holy Cross (see image to the right), sitting high up in the red rocks east of Highway 179, has been a compelling landmark since its completion in 1956. The towering cross and awesome panorama of buttes, valley and sky are a source of spiritual reflection and prayer.
Special Needs:
For people with disabilities, Sedona is a visitor-friendly place where one can find enhancing quality-of-life experiences. Most of the community's newer facilities, including City Hall and various visitor centers, comply with requirements imposed by the Americans With Disabilities Act. In addition, parks, picnic and camping grounds, restaurants and lodges, tour companies and theatres have made sincere efforts to meet the special needs of the physically disabled. All visitor centers operated by the Sedona-Oak Creek Canyon Chamber of Commerce have an extensive list of facilities with accessibility information.
Sedona / Village of Oak Creek Real Estate Listings
Click on the white or blue panels below to view slideshows of current properties for sale in Sedona and the Village of Oak Creek, Arizona. Each photo can also be clicked on to view more information about each listing.
The photos in the slideshow will loop, so if you missed a listing, be patient. It will come around again.