Search Sedona Real Estate by Neighborhood Map
Start your Sedona Arizona real estate search by clicking on a neighborhood and learning more about where you might want to live in Sedona. From there, you can further drill down to the type of property you are interested in.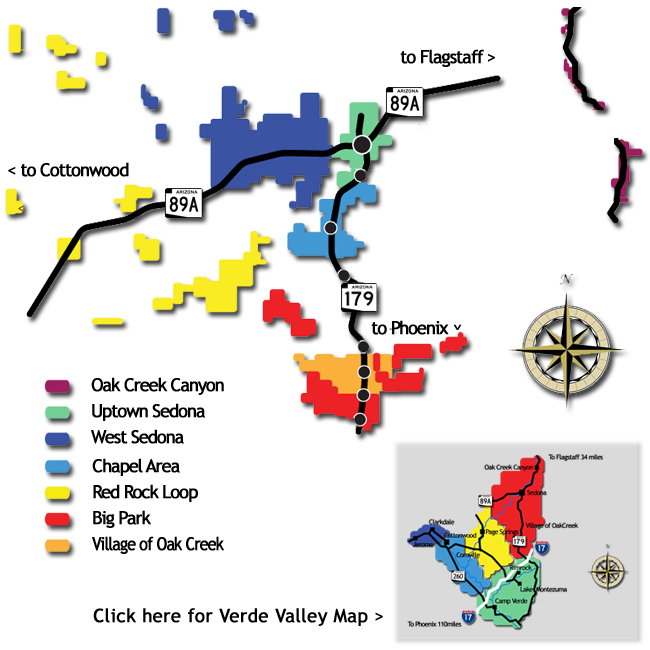 Sedona Real Estate For Sale!
Enjoy this slideshow of current properties for sale in Sedona, Arizona. Each photo can also be clicked on to view more information about each listing. The photos in the slideshow will loop, so if you missed a listing, be patient. It will come around again.
Testimonials
Meeting Lee Congdon was a great stroke of luck for me. Coming from Tokyo Japan, I had been researching for a house in CA for 1 1/2 years and could not be satisfied with what was available for the cash I had. On a whim I decided to go to Sedona. There I met Lee and after a brief talk about my needs and desires in a house and property, Lee knew exactly the house for me. Her intuition was right on the mark. although I had been looking for a 3 bedroom house and the house she showed me was a 2 large bedroom house it was the right one for me. she showed me a few others but she knew that this first one was right for all my needs.Lee is extremely intuitive and right on the mark. The house, the neighborhood, & the lifestyle I have were all in line. The buying procedure went smoothly. Lee's negotiations with the seller and seller's agent were quick and clean and reasonable. I am so grateful for having met Lee. I think she is the number one Realtor, knowledgeable, intuitive and inexpert! Thank you Lee Congden! Matsuura, B.